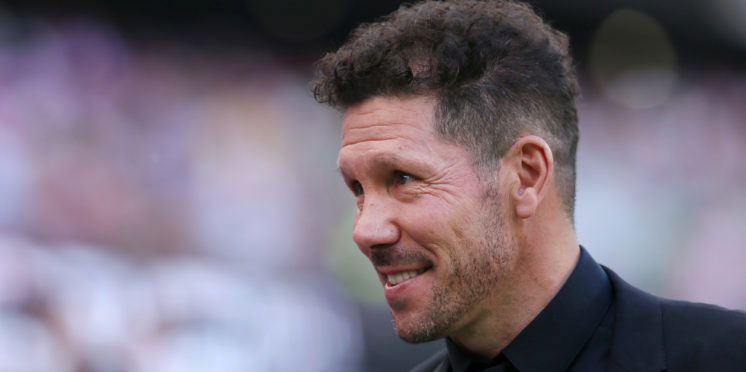 Simeone's men are showing no signs of slowing down
Atletico Madrid faced off with Real Madrid in the International Champions Cup, making it the first Madrid Derby to be held outside of Europe in history.
It's always difficult to judge pre-season games because it's unknown where teams are in their fitness progression, missing players, and various other reasons. However, there are occasionally preseason matches that can be noteworthy and give hints for what to expect from the club in the upcoming season.
Although the offshore Madrid Derby was meaningless in terms of statistical significance, it couldn't have been further from insignificant. Atletico gave Real a good old fashion thrashing, taking the lead 6-0 and the match finished a shocking 7-3. Simeone's men dismantled Real Madrid from the first whistle. They attacked and defended with intelligent ferocity frustrating the Real Madrid players to no end. The match caught headlines around the world and sent alarm bells ringing all throughout Madridistas everywhere.
Real Madrid lacked drive, motivation, and were unable to make any adjustments to match Atletico's intensity. We could focus all day talking about the horrendous performance of Real and the impending dangers they seem to be facing this upcoming season. Real Madrid were bad, but they do have pre-season excuses that I mentioned earlier, which could end up being valid and they may well in fact go on to have a great season. Though what cannot be denied, is the brilliant performance of Diego Simeone's team and the seemingly ever-growing machine he has created.
Many pundits and fans have been cautious about Atletico's outlook for the upcoming season, with good reason. This has been an offseason of much change for Atletico Madrid, one unlike any Simeone has faced since taking charge in 2011. Atletico have been extremely active this summer transfer window market, seeing numerous players arrive and depart.
The club have lost players who have been cornerstones to what Simeone has built over the past eight years such as club captain Diego Godin, Antoine Griezmann, Juanfran, and Filipe Luis. They have also lost talented players entering the primes of their careers such as Lucas Hernandez and Rodri.
Cholo has brought in a blend of very talented youngsters such as Joao Felix, Mario Hermosa, Lodi, and Marcos Llorente along with more experienced players such as Kieran Trippier and Hector Herrera.
There has been speculation circling because of the types of new players brought in, wondering if Simeone is going to try to play a more attacking style than everyone has become accustomed to watching. I don't necessarily see it as an indicator of a change in style of play.
I see these talented youngsters as proof of how far Simeone has brought Atletico Madrid since he's taken charge by the degree of talent the club is now able to bring in. It's astonishing to think that a player such as Joao Felix chose to come to Atletico. Felix is among the most talented teenagers in the world and could have went to any club of his choosing. The fact that he chose Atletico Madrid perfectly demonstrates the immense strides the club has taken.
There was much talk of the giant sum of money Atletico paid for Felix. However, he looked fantastic against Real Madrid. He was lively and already looked the part of a potentially top top player. It seems each year when Atletico loses a player of great talent such as Griezmann this year, they are able to wisely re-invest their money to make the club even better. Felix wasn't the only player who looked great in the preseason match.
All the incoming players looked to be fitting in like clockwork. Three of the back four who started against Real consisted of all newly signed players but looked like they had been playing together for years. This is the beauty of Simeone, his ability to gather talented players and get them to buy in and understand what he wants from him.
The way Simeone has built Atletico should be a model all clubs should aspire to do. The job he has done at Atletico, growing them into one of the top clubs in Europe doesn't always get the credit it deserves. Cholo took charge of Atletico in 201l, finishing fifth in La Liga during his first season in charge.
Then over the past seven years, he has guided Atletico to a top three finish in La Liga every season. To top it off, winning La Liga in 2013 over Real Madrid and Barcelona. The first time since 2002 that a team apart from the two heavyweights has won the title.
Simeone has truly rose this team from the ashes. His intensity, desire, and motivation are unmatched and keeps attracting better and better players to come to the club. As long as that man is in charge there appears to be no slowing down the machine that keeps on growing.
---