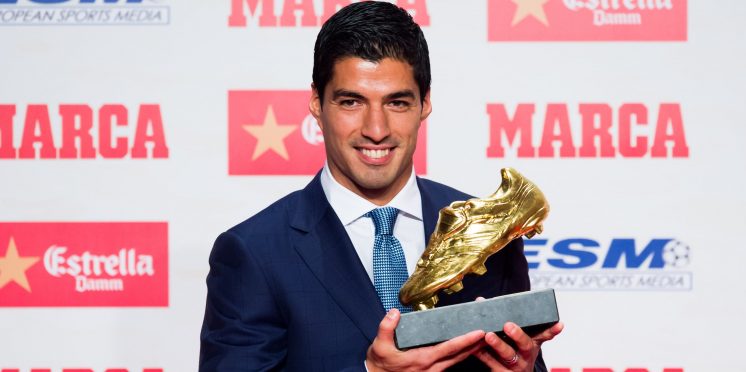 10 reasons why Luis Suarez is the best striker of the last decade
Luis Alberto Suárez aka 'El Pistolero' by his fans, started his European Club career at Ajax where he won numerous accolades and earned his move to Liverpool soon becoming the best player in Premier League. Since then Luis Suarez's career has skyrocketed. Here are some facts about Luis Suárez which, for me, makes him the best striker of the last decade:
 1. Most frequent hat-trick scorer in PL history. During his tenure at Liverpool, Suárez averaged a hat-trick every 18 games making him the first player in English top-flight to have achieved that. A record that stands to this date.
2. Won 2 Golden Boots in Messi-Ronaldo Era. While no other striker has managed to beat Messi and Ronaldo to European golden boot. Luis Suarez has done it twice. The Uruguayan striker scored 31 Goals in 33 Appearances in the season 2013-14 of the English Premier League securing his first European golden boot in Messi-Ronaldo era. He won the coveted award for the second time with FC Barcelona in the season 2015-16 scoring 40 goals in 35 matches in La Liga.
3. The First, and Only South American to win PFA POTY. In 2014, Luis Suárez bagged 31 goals in 33 matches for Liverpool which nominated him for the glorious PFA POTY trophy. Luis Suárez was declared the winner of PFA POTY for the season 2013-14, becoming the first Uruguayan, as well as the first South American, to win the coveted trophy.
4. The Inhuman 2015-16 season. In his best productive season as a professional footballer, Luis Suárez was directly involved in 83 goals which tied him with Cristiano Ronaldo who had been directly involved in 83 goals as well in the 2014-15 season, both behind Messi who achieved an impossible feat of 104 goals and assists during the season 2011-12.
5. Top 4 All-Time Goal Scorer in FC Barcelona History. After securing a move to European giants FC Barcelona in 2014 for €81 million. Suarez has scored 191 goals in 270 appearances for Spanish side making him the 4th top goal-scorer in club's history. The Uruguayan recently broke club legend Josep Samitier's record of 184 official goals with his goal against Eibar. Suarez now has his eyes on the 3rd spot which at the moment belongs to the legendary László Kabala who has scored 194 official goals during his tenure at FC Barcelona.
6. Uruguay's All-time Top Scorer. Luis Suárez made his first senior debut for Uruguay in a 3-1 win over Colombia in 2007. Since then the Uruguayan star has scored 59 goals for La Celeste in 113 matches. Suárez isn't just the all-time top scorer for Uruguay but also 2nd highest scorer for Uruguay in FIFA World Cup with 7 goals just one shy of Oscar Míguez's record of 8 goals in the World Cup. He was Copa America Player Of The Year in 2011 scoring 4 goals and won the cup in Argentina.
7. Joint 8th top Goal-Scorer in El Clásico History. Since scoring the winning goal for FC Barcelona in a 2-1 win over arch-rival Real Madrid at Camp Nou. The Barcelona star has found the back of the net 12 times in 15 appearances including a hat-trick in a 5-0 win over Real Madrid at Camp Nou. The Uruguayan gunman is just 2 goals short of matching Hungarian legend, Ferenc Puskas' record of 14 goals in El Clásico.
8. The First, and Only Barcelona player to beat Messi to The Pichichi Award. On the last matchday La Liga season 2015-16, Suárez bagged a hat-trick in 3-0 win against Granada, he also registered his 40th league goal of the season in doing so. The Barcelona star not only became the first Barça player to beat Messi to Pichichi but also the first player to win both Pichichi award and European golden shoe in the same season since 2009.
9. The First player to score 4 times in 2 consecutive La Liga matches. Suarez scored 4 goals against Deportivo in an 8-0 away win. One the next match day Luis fired another 4 goals in a 6-0 win against Sporting de Gijón at Camp Nou making him the first player to score 4 goals in two consecutive matches in the history of the competition.
10. Broke the record of the most goals scored in a Premier League season. Since Premier League changed its format to 20 teams with 38 games each from 22 teams and 42 games each. Henry held the record for most (30) goals in a PL season until Cristiano scored 31 goals in 2007-08 season. Although Luis Suarez didn't break his record of 31 goals, he did however scored the same amount of goals in fewer appearances than Ronaldo, therefore setting a better record.
---